Bricklayers Newcastle | Brick Fences + Retaining walls
At Newcastle Bricklayers, we combine decades of experience and knowledge to offer bespoke bricklaying services that suit you.
 We are a team of skilled professionals dedicated to providing you with premium quality workmanship along with the best customer services. Our years of experience and skill guarantee high-quality brick and block laying solutions whatever the scale of your project.
Our services range from small repair jobs to commercial basements and buildings. We have expertise in many aspects of bricklaying from building new homes and extensions through to retaining walls and planter boxes.
From start to finish, we ensure you get first-class services. We take our time to understand your requirements and determine the most cost-effective approach in delivering quality services. If you are looking for the best quality and affordable bricklayers in Newcastle, then look no further. Newcastle Bricklayers are ready to take your brick project from concept to reality without costing you a fortune.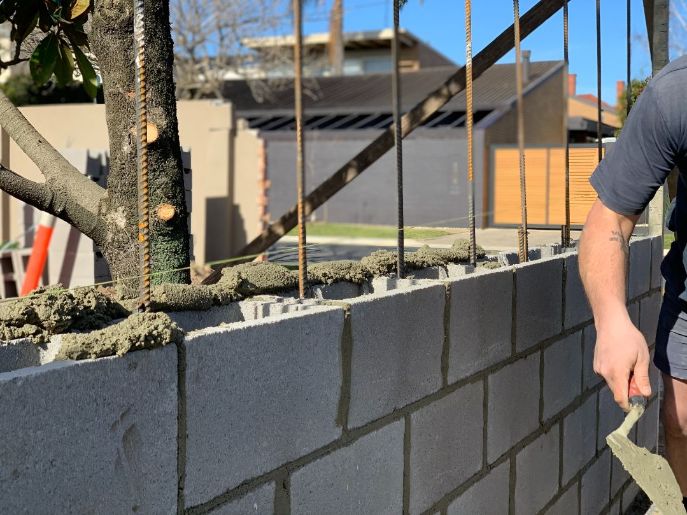 Newcastle Bricklayers constructs affordable brick fences that complete the aesthetic and enhance the value of your home. Our team of professional experts will work with you to produce an eye-catching finished product that fully satisfies your unique requirements.
The benefits of a brick fence are numerous, from reducing traffic noise and providing security to your family, to increasing the value of your property. Click below to read more info about how our brick fences can fit what you're looking for.
Newcastle Bricklayers are your trusted partners for brick fireplace repairs, restoration, renovation and maintenance. Our first priority is your satisfaction. We'll carry out a proper inspection and analysis of your brick issues and provide an optimal and affordable solution that you will take pride in.
We can even help you with an insurance jobs when required. We're always available to help you out when required. If you need any brick repairs in Newcastle then get in touch today!
Retaining Walls Newcastle
Newcastle Bricklayers are experts providing affordable retaining wall bricklaying services. We offer personalised service in constructing retaining walls for domestic and commercial properties in Newcastle. Our team of experts are readily available to discuss with you the best choice of retaining wall that suits your environment and taste.
With our years of experience behind us, we know how to create a retaining wall to suit all your needs. Whether that's for visual appeal, safety, structural support to your garden or to replace an existing wall, we have the knowledge to create a retaining wall that exceeds your expectations
Domestic Bricklayers Newcastle
 At Newcastle Bricklayers, we pride ourselves on delivering high-quality new homes, house extensions and refurbishments. We offer a wide range of domestic bricklaying services to residents of Newcastle and surrounding suburbs. Our team are fully-qualified, experienced and friendly professionals who know how to create the beautiful home extension or new build of your choice.
Whether you desire an extra bedroom, a bigger dining room, another bathroom or converted garage space, we can construct the right kind of extension that will blend in seamlessly with the rest of your property.
Our friendly team of experienced bricklayer Newcastle NSW makes sure you are well-informed and comfortable with ongoing bricklaying projects, notifying you as each stage progresses. There is nothing we can't accommodate. We adhere to necessary safety procedures to ensure your family is kept safe and also ensure we maintain a tidy site, cleaning up as we go and keeping the project running efficiently.
Some of the reasons to engage Newcastle Bricklayers for your upcoming bricklaying project are:
We have all the experience and know-how to build the perfect extension for you. Our domestic bricklaying services include:
Extensions
Newcastle Bricklayers will work with you to create the best possible structure and finish for your home extensions. We build bespoke house extensions that are safe, secure and durable. Our home extensions aim to meet your criteria and vision for what you're aiming to achieve, blending in with the rest of your property.
Garages
We are the perfect company for constructing new build garages in Newcastle. We will complete your projects quickly and efficiently, so you will be able to enjoy more space in your home in no time. Is your ideal garage a single, double car space? Do you require it solely for storage? We can work to your plans and complete the task to your specifications.
Retaining Walls
Our team will work with you to build brick fences that provide all the attributes you're looking to achieve with your front fence. Regardless of the style of brick fence you're seeking, whether it's double brick, single brick with piers, brick with steel infill and even a rendered or bagged finish, our team will be able to guide and manage the process to ensure its completed to your standards.
Whatever it is you're looking for, whether it's a new retaining wall to create depth in your garden, a brick fence for security or even brick repointing Newcastle, we can ensure our domestic bricklaying services in Newcastle will meet your standards. We strive to produce the best looking finishes for affordable and competitive prices. So if you're looking for a bricklayers Newcastle that have the skillset to take your plans and build them into a reality, then look no further. Contact Newcastle Bricklayers today
Commercial Bricklayer Newcastle NSW
We are commercial bricklaying experts that work to the timeframes and deadlines of your project schedule. Whether you have a small or large project, our team of specialists is on hand to work flexibly with you, making sure your work is completed on time and to the highest standard.
We offer a wide range of commercial bricklaying services in Newcastle. Our team is made up of skilled professionals who are fully equipped with decades of experience and knowledge to ensure your bricklaying project is completed efficiently, quickly and on time.
At Newcastle Bricklayers, our number one priority is our clients' satisfaction. We believe our clients deserve the highest quality and best value possible. This is why we focus on efficient teamwork and high quality materials that are also cost-effective. Our aim is to deliver value but never compromise the quality of your end product.
We value transparency and open communication with our clients. This is why we also work closely with your team to develop a plan and approach that works for your project. We submit regular reports that keep you updated throughout your construction project and are always at hand to offer professional advice and guidance when you need it.
Our state of the art commercial bricklaying services that include:
With Newcastle Bricklayers, you can be sure to get proficient, punctual and on-time quality services with the use of excellent materials at competitive pricing. We are committed to our clients and will not finish the job until the client is happy and satisfied with the standard of work we have done.
Our work speaks for itself. Experience high benchmark workmanship in your next commercial bricklaying project by one of the best team of bricklayers Newcastle has to offer.
Other Bricklaying Services Newcastle
Newcastle Bricklayers constructs brick letterboxes and planter boxes that stand out as a finishing touch that enhances your home's. Our brick letterboxes and planter boxes are known for their high quality, durability and appealing look that gives a homely feel and sends a statement to the world about you and your family.
Our team of experts applies delicate craftsmanship with a touch of elegance to produce letterboxes and planter boxes that create exactly the effect you are after. We take pride in delivering a range of crafted planter boxes and letterboxes that speak volumes about the care you are investing in your family home.
We can create any design for your letterbox and planter box using a variety of quality materials to create texture and contrast. You can be assured we will deliver an eye-catching finished product that specifically matches your unique requirement.
We offer the following letterbox and planter box bricklaying services:
Letterboxes: Newcastle Bricklayer has a wide range of style ideas and custom builds of brick letterboxes that serve as a guideline to building a perfect custom letterbox that suits you. Of course, you can always provide us your own unique ideas for your letterbox, and we will make it a reality. Send us what you want and we will quote you.
Planter boxes: We build planter boxes of all shapes, sizes and styles. We also ensure we use high-quality materials that make it easy to control the micro terrain of your gardening space and keep pests at bay.
Planter box furniture:At Newcastle Bricklayers, we apply delicate craftsmanship to combine your planters with trellises to create visual barriers for privacy or with benches to transform a featureless corner into a leafy nook to hang out in.
Window planter boxes: We create window planter boxes that bring new life to your home. Our planter boxes transform the outside of your house, bringing a splash of green to your view and showing the world that your home is a place of growth and nurture. Interested in a letterbox or planter box for your home or commercial property? Get in touch with our team today and see why we're one of the best bricklayers Newcastle has on offer.